Fred Fisher's Light Rein Horses Blog
Barn Party in the Mountains!
We had a great time at our barn party in the mountains! We go camping every summer in the mountains of northern AZ for vacation, but this time, we took our barn family with us! Wonderful food and awesome company! Our clients are the best EVER! Thank you for coming, everyone, and for all the amazing homemade dishes! For those who couldn't make it this time, we missed you! We will do another get together again soon! #RideOn!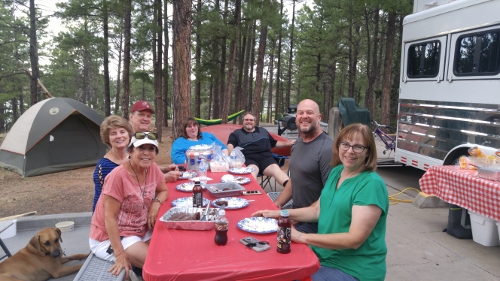 https://static.xx.fbcdn.net/images/emoji.php/v9/tce/1/16/1f600.png");">😀https://static.xx.fbcdn.net/images/emoji.php/v9/t6a/1/16/1f497.png");">💗https://static.xx.fbcdn.net/images/emoji.php/v9/t2a/1/16/1f354.png");">🍔https://static.xx.fbcdn.net/images/emoji.php/v9/t10/1/16/1f349.png");">🍉https://static.xx.fbcdn.net/images/emoji.php/v9/t64/1/16/1f370.png");">🍰
https://static.xx.fbcdn.net/images/emoji.php/v9/t64/1/16/1f370.png");">