Winner's Circle
Congratulations to Glenda Roberts
Congratulations to Glenda Roberts on her win as Amateur Grand Champion at the AQHA Arizona National Livestock Show!  Glenda just received this beautiful bronze trophy in the mail, an unexpected surprise.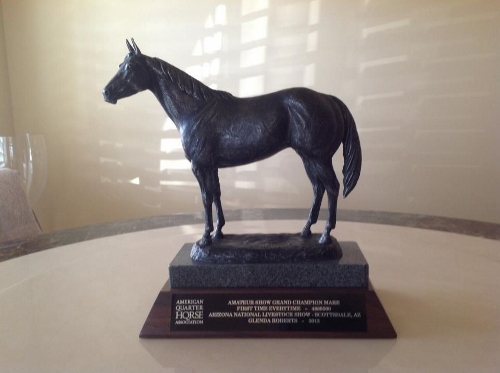 April Shows
Team Light Rein enjoyed great success in the show ring in April. Here are pictures of just a few of the awards won by our team this month. At the Blue Ribbon show, Glenda won grand champion in halter and reserve high point, Molly won reserve high point, Amanda and Samantha won multiple blue ribbons, and new exhibitor, 13-year-old Kevin Fisher was also in the ribbons, including his first blue ribbon. Both Glenda and Molly were also in the ribbons at the AQHA Scholarship show. Congratulations once again, Team Light Rein!
Congratulations, Team Light Rein!
Congratulations to Glenda Roberts, Molly Fisher, Kevin Kuzma, Katie Fisher and Fred Fisher on a great show at the Silver Dollar Circuit AQHA show in Las Vegas! Team Light Rein was in the ribbons among some of the best competition AQHA has to offer. Among the prizes and ribbons won were three third place ribbons for Kevin Kuzma's horse, Hes Always Zipped with Fred Fisher, a second place for Glenda's horse, First Time Everytime, a sixth place for Molly Fisher on Hes Always Zipped and a silver medal for Katie Fisher on Hes Always Zipped. Molly also won a $100 gift certificate toward a new show jacket from Jessica Lynn Show Apparel.

Congratulations to Glenda Roberts
Congratulations, Glenda, on your great show day with multiple wins at the March Blue Ribbon show! Some of Glenda's awards included Champion and Reserve Champion in Halter and several first place ribbons in Showmanship, Pleasure and Trail. As always, we are so proud of you!
Blue Ribbon Year End Awards Banquet
CONGRATULATIONS, TEAM LIGHT REIN!
We CLEANED UP at the Blue Ribbon Horse Show 2012 Year End Awards Banquet! See more photos under "Fred's Blog".
We are so proud of you all!