Winner's Circle
Great Success at the new SAzQHA Show!
Congratulations to Glenda Roberts, who had a great show at the new SAzQHA show November 3rd at Horseshoe Park in Queen Creek!
Glenda's new Halter filly, "Bodiva" took first place in her halter class AND Grand Champion Halter Mare under the guidance of Fred in her very first show!
Glenda's other beautiful mare, "First Time Everytime" also took two second place and a third place in her Performance Halter classes with Glenda at the lead.
2013 Novice World Show Qualifier Buckles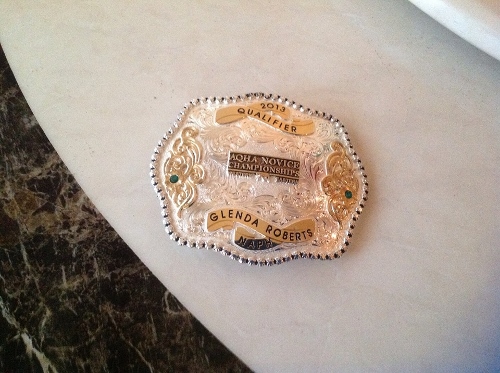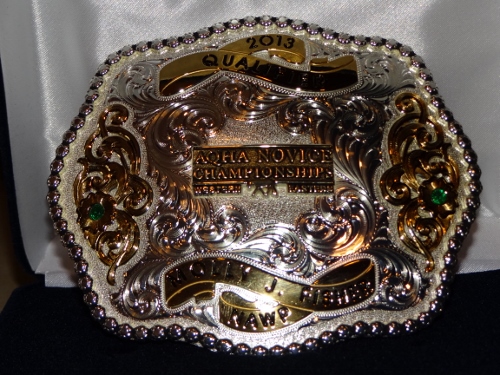 Team Light Rein members Glenda Roberts and Molly Fisher both earned 2013 AQHA Novice Championship World Show Qualifier buckles!  Congratulations, ladies!  Awesome job!
The All American Quarter Horse Congress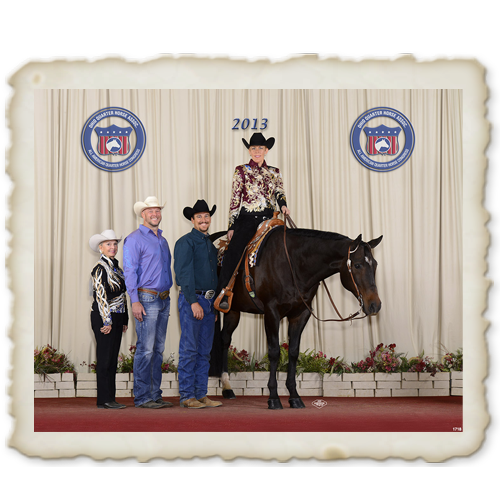 We are SO proud of Team Light Rein and their awesome performances at the All American Quarter Horse Congress in our inaugural year! Team Light Rein was at the top of our game, and we had a wonderful first year!  Check out our Candids on the Fred's Blog page!
October Blue Ribbon Show Results
We had another GREAT show at the October Blue Ribbon show! Even though Glenda could only stay for the halter classes this time, she still won a 2nd Place and Reserve Champion. Kevin won his horsemanship class under one judge and placed 2nd
under the other, and won his western pleasure class under both judges. New exhibitor Kristine, and exhibitors Samantha and Amanda were also in the ribbons in their classes (still waiting for ribbon photos from them to post). Molly won two high point trophies and a reserve high point trophy, as well as reserve champion in halter and 1st Place under both judges in the Open Jackpot class, taking home $20! She placed either 1st, 2nd or 3rd in every class under both judges. It was a fun show for all of our team! Team Light Rein, you always do us proud!  Here are Molly's Glenda's and Kevin's awards, as well as some photos by Kevin of some of our team having a great time at the show!

AZ Fall Championship Show
Here are the results for Team Light Rein from the Arizona Fall Championship show: Glenda got a Top 5 from 3 judges and a Top 10 from 3 judges in Amateur Performance Halter Mares. Amanda got a Top 5 under all judges in Amateur and Open Hunt
er
Hack. Fred got a Top 5 under all 6 judges in Open Performance Halter Mares. Molly got a Top 10 under all 6 judges in Amateur Western Pleasure, her very first Amateur classes, and a 2nd Place in her NSBA Amateur Western Pleasure class. Katie got a 1st Place under 2 judges and a 2nd Place under 2 judges in her Leadline class. There was some tough competition out there! Congratulations, Team Light Rein! Once again, you've done us proud!