Fred Fisher's Light Rein Horses Blog
Time to Shop with your Crazy Horse coupon!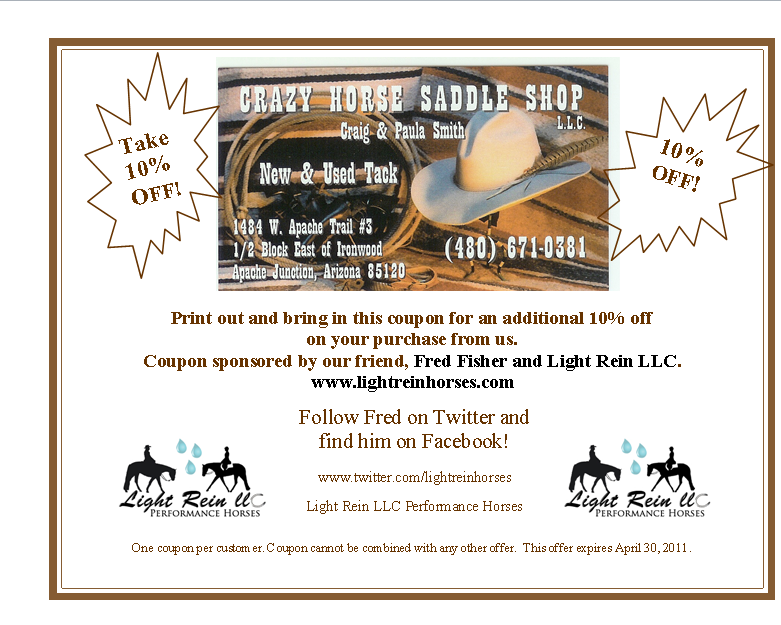 New coupon for Crazy Horse Saddle Shop
We will be posting a new coupon later on today for Crazy Horse Saddle Shop.
It's time to stock up on supplies like reins, saddle pads and cleaning supplies for your horse.
Sun Circuit Fun!
Made it up to Sun Circuit to show a couple of times. What a great show.
The competition was extremely deep and Hannah and I hung in there. I was happy with how she did and that she improved from class to class, as well. Did some shopping with clients, visited JC Adams (Amazing Animal Cracker!) and got to watch the "Down the Rail Challenge." Those working cowhorses were amazing! Made me want to jump on one and compete!
Love the Sun Circuit show!
Tooth Time!
Brrrrrrrrr the winter winds are blowing and it's cold here in Arizona. Are your teeth chattering?
That reminds me to remind you about the Dental Clinic Dr. Harvey has scheduled for Tuesday, February 8th at Marley Farms.
I know some of you have already gotten ahold of Dr. Harvey, but just in case I am reminding you here. Please call her office and confirm your horse is on the list. It's very important for your horse to have annual check ups for his teeth. Not only does regular tooth care help your horse chew more efficiently, but you can make sure your bit rests more comfortably in his mouth, as well. Please call me if you have questions about Tuesday.
Stay warm