Fred Fisher's Light Rein Horses Blog
ANOTHER Coupon for you!
Hey All! Paula and Craig of Crazy Horse Saddle Shop have let me post another 10% off coupon for you to use in their store.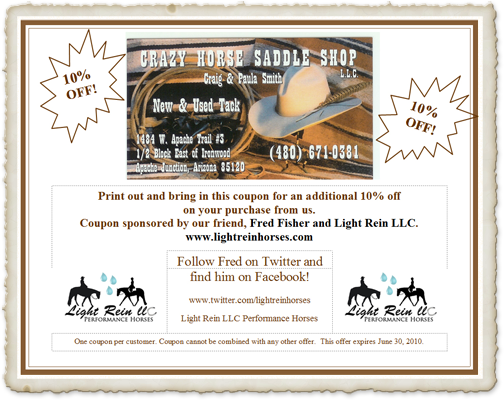 It's wet saddle pad time now and you should be thinking about having that spare SMX pad around so you can wash one or let one dry and alternate pads each day. Your horse will thank you and so will your friends when they don't have to smell STINKY saddle pads in the tack room. Use the coupon and get 10% off their great prices on your next pad.
Crazy Horse carries all kinds of tack and horse supplies, so if you need to get the trailer stocked up, grab this coupon and come on in to the store and get all the things you need for you and your horse.
If you don't see what you are looking for ASK and i bet they will find it for you!
A New Coupon for Crazy Horse Saddle Shop!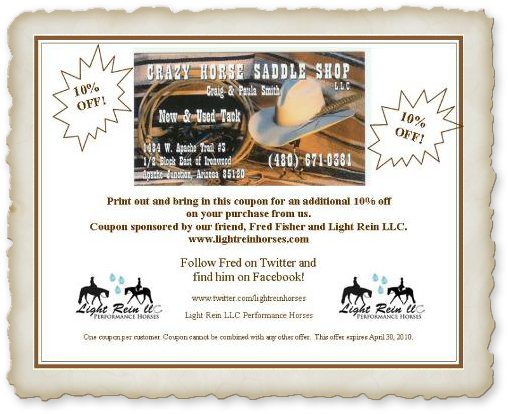 Hi Friends!
Here's a new coupon for you to print and bring on in to Craig and Paula's Crazy Horse Saddle Shop in Apache Junction, AZ. They have great prices already and this will save you an additional 10%!
Did you know they carry all kinds cowboy decor? Like metal signs and ceramic horses? Do you collect? If so come see what they have.
Looking for a new saddle pad? They carry SMX! I recommend SMX pads to protect your horse's back and make your ride more comfortable.
See you at Crazy Horse!
Fred
Coupon for Crazy Horse
Print out and bring in this coupon for an additional 10% off on your purchase from us.
Coupon sponsored by me, Fred Fisher and Light Rein LLC.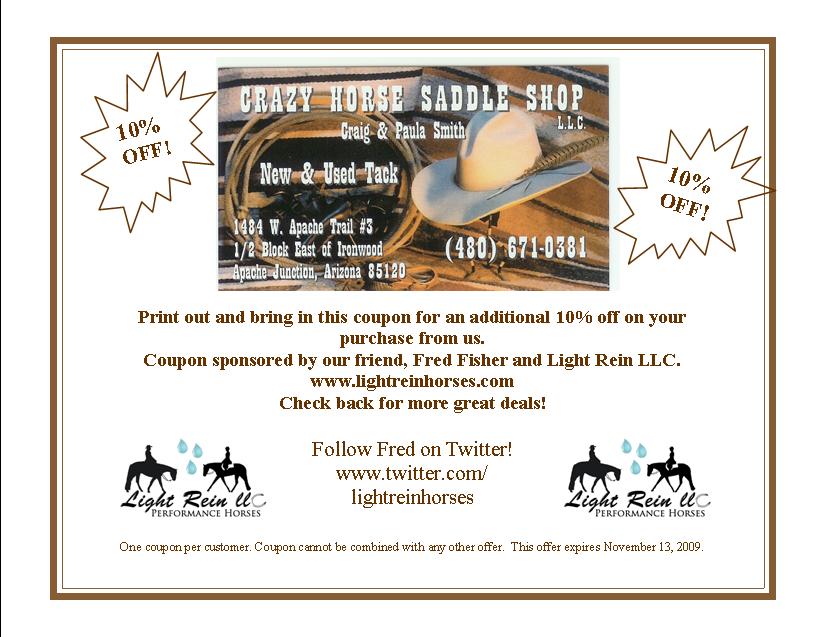 Great Sale at Crazy Horse Saddle Shop
Hey everyone, I just got this flyer from Crazy Horse Saddle Shop in Apache Junction, AZ. Some terrific deals on Nov 14th! Come by and save!
Check back in for coupons and more sales too!